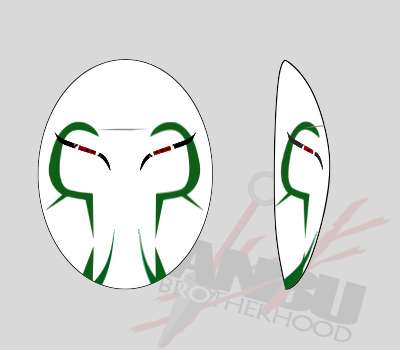 id="userPhoto">
Your Faceless ANBU Brotherhood Mask
Regular price
$ 39.00
Sale price
$ 108.00
---
Shall I craft this mask for you?
Congratulations, youve completed your mask customization, the first and most important step to your ANBU Brotherhood mask!  The concept sketch created here will be used to match colors and place elements in proportion when building your mask.
Build time and shipping
Crafting your mask is a process.  I ask at least 4 weeks to complete a mask of moderate complexity. Besides the mandatory wait times for drying, a mask can take weeks to refine before being sent to you. I apologize in advance about the speed.  I dare to say, your mask will be worth it.  I encourage new members to communicate about their mask build, before, during and even after construction.  Your Brothers and sisters will want to see what you do with your mask so please share and #anbubrotherhood when you post!
Choose Sticker package
High quality weather proof vinyl stickers can be made from your concept sketch so you can start tagging your stuff and otherwise rep #anbubrotherhood.  Because the concept sketch is the blueprint for the finished mask, the stickers provide that tangible gateway between the fanart and the reality.  Choose one of the sticker packages and also get a matching number of #anbubrotherhood stickers to pass around or pair with your mask stickers.  Always show off your mask with stickers of your concept sketch with your mask.
Stickers reflect battle damage, mask shape, color scheme and design.  The perfect 2d representation and essentially, the blueprint of your new alternative face.
.

Mask Standard Features:
All ANBU Brotherhood masks are made to be displayed as art pieces as well as worn as cosplay.  To that end, the mask construction focuses on simplicity as opposed to tech, and overall sturdiness and longevity.
Liquid Rubber coating is where the face meets the mask.  Dont worry about the mask which is made of clay, melting onto your face during those hot Con days and nights.
Chin /Forehead rest provide the breathable spacing every mask needs for extended wear, as well as premium comfort and the ability to tie the mask tight when needed, to provide that perfect fit.
Base clay layer is the first of your clay layers.  Texture, weight and strength start here.
36" long tieable head straps are inspired by the village headbands.  Made from jersey cloth, these straps can pull tight and provide good tension to the head, combined with the chin and forehead rests, any user can get the perfect fit.
Paper Mache shell is built in between your two clay layers for integrity.  This endoskeleton absorbs shock and doesnt allow them to immediately transfer through to the back of the mask.  If your mask has ears, this layer provides the extra strength that keeps your ears from breaking.
Finished clay layer is the face of your new mask.  This canvas will be a pure white or hand turned colored clay of your choosing.  This layer will be sanded and buffed before the design is laid.
Polyurethane coating finishes your mask and protects it from scuffs.  It provides that finished gloss and locks in the design.  if scuffed in the future, this clear coat layer allows you to easily remove most marks with a damp rag of a light ammonia and water based solution.