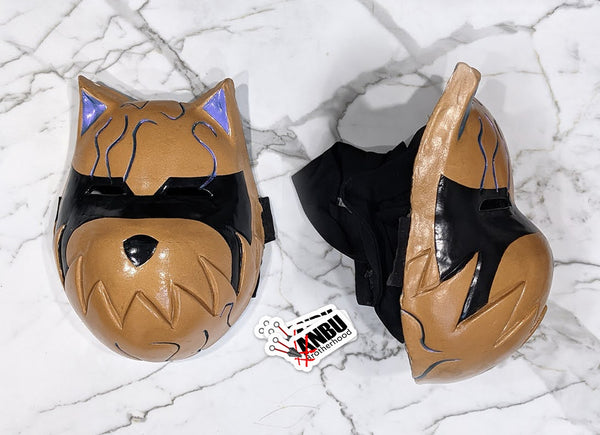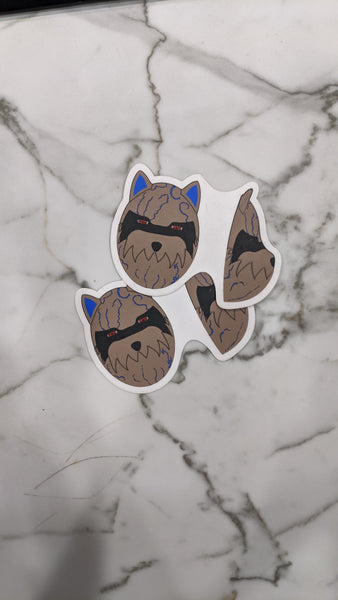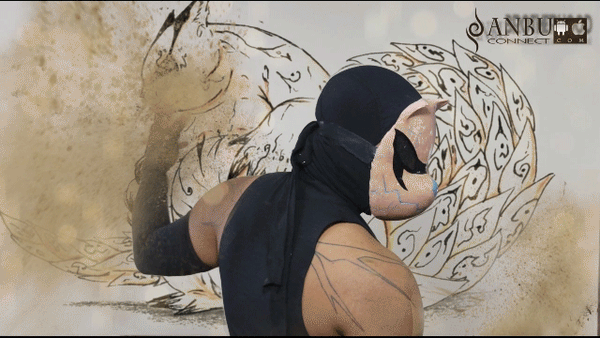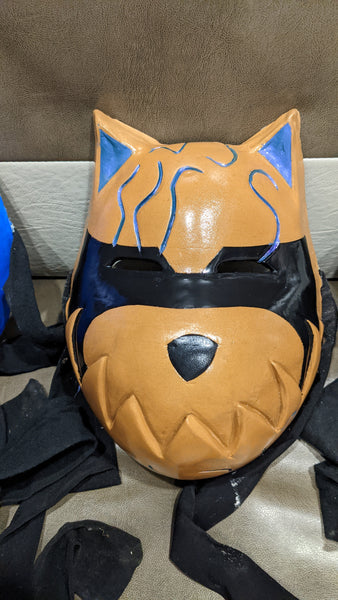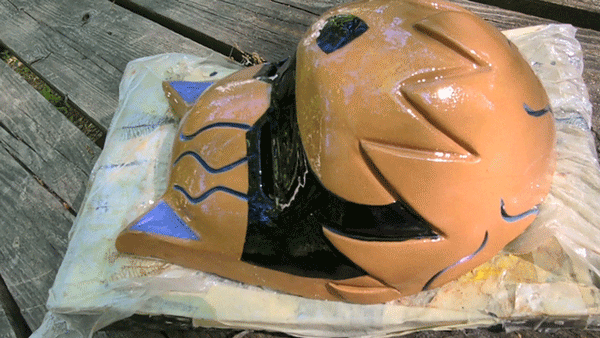 id="userPhoto">
Shukaku
Shukaku Mask Specs
6"x9" facial cavity allows your entire face to rest inside the mask
Customized ANBU Brotherhood K9 mask frame 
Hand mixed "Chakral Sand" clay gives you a through and through, true color
"Hidden eye" set minimizes eyes to viewer while providing clear forward sight of wearer
Dual layer air dry clay construction re enforced by a hardened endoskeleton between the layers; protects mask integrity against shocks and drops
36"x2" fabric head ties are built into the mask structure.  Full tang type
 Black liquid rubber coating protects mask from body moisture 
Forehead and chin rests hold the mask comfortably away from your face allowing you to breathe easily
Polyurethane coating provides beautiful semi-gloss finish and adds a layer of scuff and scratch protection 
650g finished weight
12 design elements 
ANBU Brotherhood presents Shukaku
The Shukaku mask is the latest example piece of what can be built in the ANBU Brotherhood K9 mask frame.  Easily transform this base mask shape to resemble the monstrous Racoon that is the Bijuu.  The design elements seen on this mask can be mixed and matched and used with many other design elements to create your own unique mask creation.  Handmade from shape to clay color.  36" long fabric head ties, locally sourced and sewn, make all ANBU Brotherhood masks as much an American made  piece of art as it is a usable wearable cosplay piece. 
Behind The mask:  Built for comfort and wear
All ANBU Brotherhood masks take into consideration a 6"x9" space for the facial cavity allowing for plenty of room for adult shinobi of every size.  The inside of the mask sports two strategically placed soft clay cushions that support the chin and forehead.  Use these cushions to tighten your head straps to the perfect comfortable fit.  Atop the cushions and sealing the entire inside of the mask is a coating of a liquid rubber sealant, black in this case chosen to accent the overall design aesthetic.  Don't worry about sweating through the mask or slippage, the rubberized seal makes a nice neat water tight seal for the entire inside of the mask.
ANBU Brotherhood Chakral Sand
Early Shukaku mask version circa 2015 shown 
Hand mixed paint color prior to kneading into white clay
 When you choose an ANBU Brotherhood mask of any color other than white, you get even more time and effort put into the construction of your mask.  Your chosen clay color is hand kneaded into the clay, through and  through.  To achieve the Chakral Sand clay used for the Shukaku build, brown paint is mixed with a composite of brown paints then mixed into the clay to make a homogeneous golden brown clay mixture.  The gold in the mixture shines at just the right angle making this color a beautiful representation of the sacred Jutsu of the sand.
 Hand crafted for strength not mass produced for profit
Each ANBU Brotherhood mask is made of 2 layers of air dry clay re enforced by a hardened shell.  The head ties are installed in the middle of the mask making process, making them as integrated into the mask as possible.    The hardened mask endoskeleton protects against shocks during the occasional drop.  The separated clay layers, durable in their own right, act as independent shock absorbers, distributing force before directly transferring it to the other clay layer.  In other words, a crack mad on the front won't transfer to the back.  
B
Craft time and shipping
Your mask is hand crafted start to finish  Made from clay to keep as true to the natural world as possible.  In the world of Shinobi there ought not be cookie cutter masks.  Ready to wear and ready to take a beating as well, not ceramic so the mask will not shatter.  The mask is not "waterproof" but it has been sprayed with a protective coating both front and back.  A splash of water, rain or even the occasional submersion will not ruin your mask granted you let it dry completely afterwards.    

Mask builds generally take 4-6 weeks to deliver for orders inside the U.S.  add 1-2 weeks for the average international order.  Colored clay builds can take an additional 1-2 weeks depending on current case load.  I ask for patience but do encourage inquiry, please feel free to ask for updates on your order.
Design elements
12 Design elements make up the entire Shukaku design.  
Centerpiece (folder):  Racoon mask (element)
Ears (folder):  Dual ear color (element)
Nose (folder):  Rounded tri solid (element)
+FEATURES Chakral sand (folder):  Monstrous underbite (element)
Top Left (folder):  Blue scar (element)
Top Right (folder):  Blue scar (element)
IL Left Eye (folder):  Blue scar (element)
IR Right Eye (folder):  Blue scar (elements)
BL Bottom Left (folder):  Blue scar (elements)
BR Bottom Right (folder:  Blue scar (elements)
A finished Shukaku mask weighs in at 650g, twice as heavy as the average faceless mask in white clay.  Finished with a generous layer of polyurethane to bring out the intended color of the mask and protect against scuffs and scratches during wear.
 The polyurethane coating seals the outside of the mask and adds a beautiful semi gloss look.Every color used on your design will come to life once this coat is applied, The design paint is safe from immediate damage, allowing you to clean most scuffs or marks with a wet rag and maybe some ammonia based cleaner.
Represent your clan when not in uniform.  Choose a sticker option to start your collection mask concepts.  You can choose to have included 5 or 10 copies of your mask design included at time of purchase.  These are high quality removable weatherproof vinyl stickers.  Decorate hard hats, phones, laptops, cars walls, windows, books, cups, and countless other instantly ANBU mask brandable swag.  Spread the word, the village is safe.