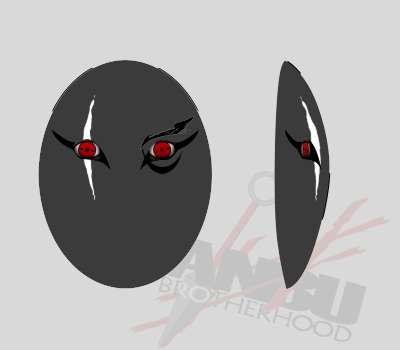 id="userPhoto">
Your Custom Colored ANBU Brotherhood Mask
Shall I craft this mask for you?
Right now youre looking at your ANBU Brotherhood Concept Sketch of what your custom mask will look like on your chosen hand mixed clay color.  Customization is the name of the game here at ANBU Brotherhood. There means might not be example photos of your particular design to show you so here are some example shots of previous hand mixed custom clay colored masks.
The first thing to know is that it takes double the work time to make your colored clay mask than it would a standard white ANBU Brotherhood mask.  This is due to the physical work time of hand mixing the color of choice into the white clay.  The end product is a through and through color for the skin of your mask, no scratch or chip can expose otherwise. 
I take pride in matching the color of your desired mask to the actual end result, sometimes mixing an entire batch again if I dont like the way it turned out.  
Please be advised, working with colored clay increases the build time of your custom mask from 2-4 weeks to 4-6 weeks in most cases.  These masks are completely made from scratch and by hand and do take some time to turn out.  Every mask gets made, I have made and sent over 600 masks worldwide throughout the years.  
Faceless Mask Standard Features:
Build Time and Shipping:
Your ANBU Brotherhood is handmade start to finish and does take time to complete. 
Please allow 4-6 weeks for delivery
for a custom build.  Feel free to inquire about the status of your order within that time frame as well.